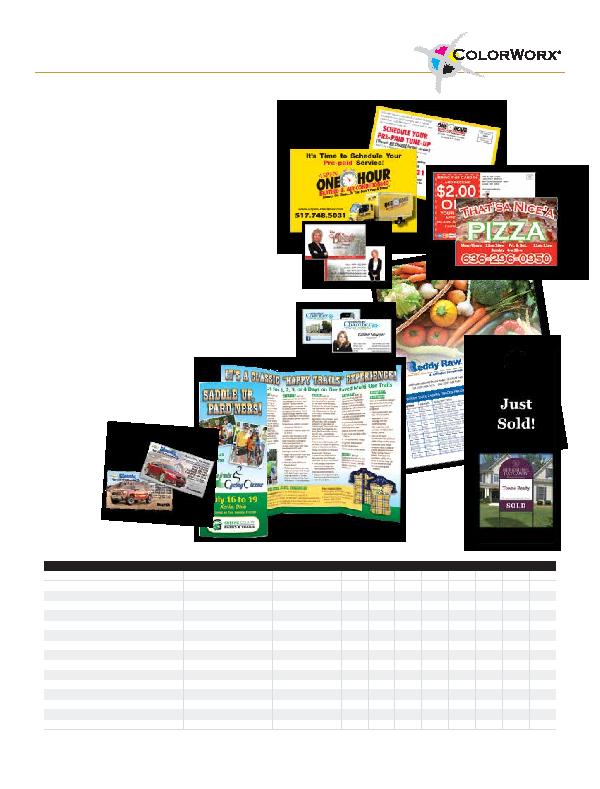 Tri-Fold Brochure 8.5" x 11"
80 lb.Gloss or Matte Text
Tri-Fold Brochure 8.5" x 11"
Flat Sell Sheet 8.5" x 11"
80 lb. Gloss or Matte Text
Flat Sell Card 8.5" x 11"
Door Hanger 4" x 9" with Perf-off Card
Door Hanger 4.25" x 11" with Bus Card Slits
For more products, specific artwork requirements, product information and details, refer to the ColorWorx
products are printed in 4CP
· Products are gang run offset printed
· Digitally printed products where indicated
Production Schedule
· 5 working days or less
Gang Run Products - Color Matching
ColorWorx
products are four color process only, printed in
"gang run" style. Your job will be run on a press sheet with
other jobs, and printed to standard ink color densities. The
overall dominant color on a sheet may cause individual job
colors to shift slightly. ColorWorx
exact color match. Reorders may vary between runs. If you
require a color match or your job needs to match other pieces,
let us know prior to placing your order. Gang run products are
only sold in quantities divisible by 500.
Proofs
Proofs on ColorWorx
are available for an additional charge.
Choose ColorWorx
®
for fast, economical, four color process printing.
Here's a sampling of our best-selling customer favorites.
(R) Price shown is per piece