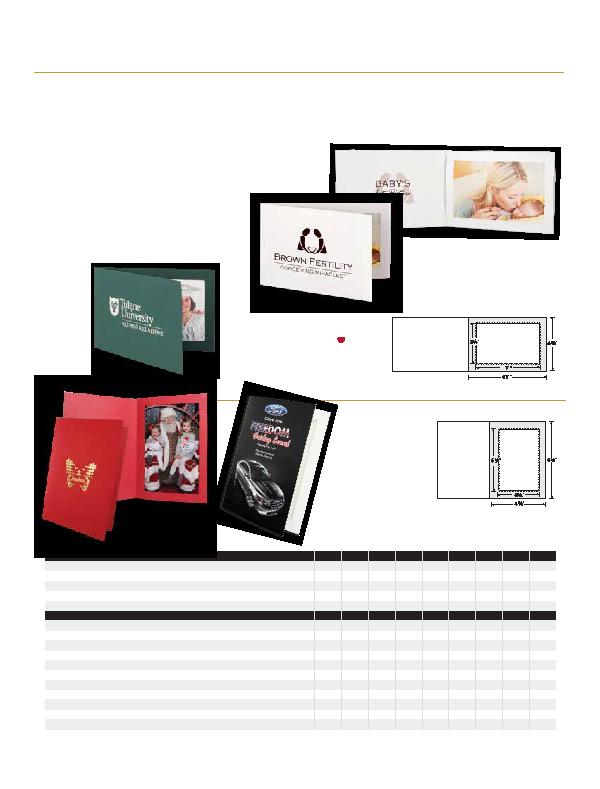 See page 33 for optional Index Tabs
Laminated Binder Specifications
· Four color process
· 20 PT C1S Semi-gloss White stock
· Gloss lamination is included ­ additional charge for
Matte or Soft-Touch lamination (see price table below)
Aqueous Coated Binder Specifications
· Four color process
· 24 PT C1S Semi-gloss White stock
· FREE overall aqueous coating
- choose GLOSS, SATIN or MATTE
· Additional charge for Soft-Touch coating
· Additional charge for lamination
- gloss, matte or Soft-Touch
· A variety of card slots, brochure slits &
other pocket options are available FREE
­ see page 22 or refer to design templates
· Binder size varies with ring capacity ­ see design template
Production Schedule
· 10 production days
· Soft-Touch aqueous coating: add 1 production day
· Item 88-07 production time varies, based on quantity
Capacities:
½", ¾", 1"
When you need MORE than "paper" consider vinyl or poly.
Turned edge and short-run digital binders also available! Call.
The full package! A printed binder & coordinating materials.
Paper is lighter weight ­ saves on shipping.
Stock and Foil selections on inside back cover. Please call for pricing on other options not listed.
BINDERS - BASE PRICE (20 PT gloss laminated or 24 PT aqueous coated - ½" rings)
1000 1500 2000 2500 3000 5000 7500 10000
6.424 4.361 3.480 3.227 3.085 2.961 2.897 2.745 2.527 2.281
Additional PMS Color/Heavy Ink Coverage (per side)
0.642 0.350 0.212 0.145 0.127 0.113 0.100 0.065 0.059 0.054
0.336 0.198 0.184 0.180 0.171 0.153 0.133 0.085 0.062 0.047
1.310 0.823 0.805 0.798 0.767 0.767 0.767 0.749 0.749 0.749
Lamination - Matte on 20 PT
0.216 0.216 0.160 0.160 0.157 0.149 0.146 0.141 0.139 0.134
Lamination - Soft-Touch on 20 PT
0.325 0.310 0.250 0.243 0.239 0.228 0.221 0.210 0.207 0.203
Lamination - Gloss on 24 PT
0.629 0.407 0.335 0.296 0.279 0.276 0.274 0.267 0.262 0.262
Lamination - Matte on 24 PT
0.789 0.624 0.493 0.456 0.436 0.425 0.420 0.408 0.401 0.395
Lamination - Soft Touch on 24 PT
0.954 0.717 0.585 0.539 0.518 0.504 0.495 0.477 0.468 0.465
Aqueous Coating (Flood Gloss, Satin or Matte) on 24 PT
FREE FREE FREE FREE FREE FREE FREE FREE FREE FREE
Aqueous Coating - Flood Soft-Touch on 24 PT
1.171 0.654 0.379 0.275 0.223 0.204 0.186 0.127 0.117 0.106
0.133 0.133 0.133 0.133 0.133 0.133 0.133 0.133 0.133 0.133
0.258 0.258 0.258 0.258 0.258 0.258 0.258 0.258 0.258 0.258
(R) Price shown is per piece