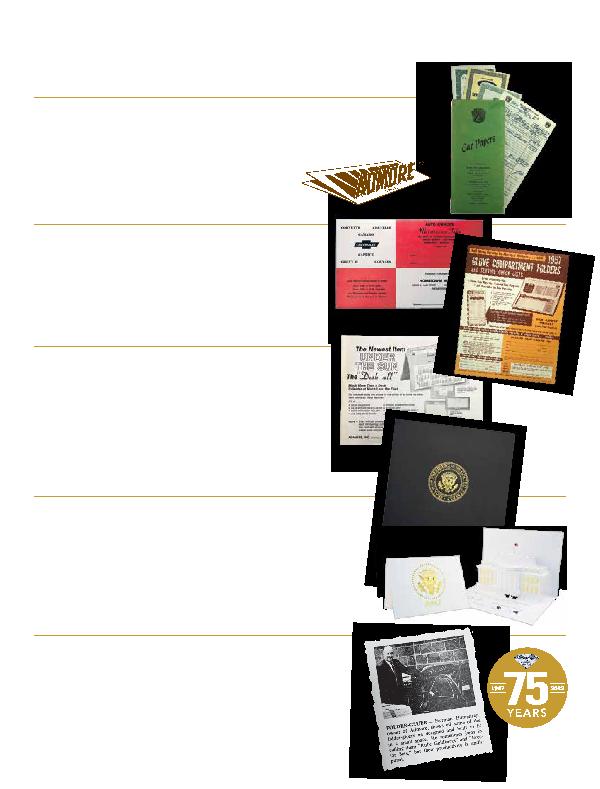 "Don't you have a stronger envelope that will last longer?"
This is the question that inspired the first document
folder and from there the vision grew! Now, 70+ years
later, Admore
still offers you the largest line of premium
presentation folders -- unmatched in quality and price.
Whether you're a large corporation or a small enterprise,
you build relationships with customers. You tell them
something about yourself with every contact. To make that
best first impression, a folder is an excellent marketing tool.
Before it's even opened, an Admore
style and professionalism.
We want you to open your box of folders and smile.
With that thought in mind, every Admore
is backed by our 100% satisfaction guarantee.
If we didn't do it right, we'll make it right. Period.
Republican? Democrat? Regardless of political or
government affiliation, folders don't choose sides.
All Admore
products are manufactured in America.
If you need a union label or a "Printed in the U.S.A."
tagline on your project, just let us know.
We'll be happy to add it free of charge.
If terms like "post consumer waste" and "mobius loop"
have you running for cover, just relax. Admore
plenty of eco-friendly options and will be glad to advise
you. There is never a charge to add the appropriate
environmental label to your folder.
All colors shown are printed process representations. Consult a PMS book or actual stock swatches for color accuracy.
vary in color.
· Not available
Letter codes represent price groups. All stocks are cover weight unless indicated.
FSC® mill certified paper from
responsibly managed forests
post-consumer recycled fiber
DIGITAL FOLDER COLOR CHART
Gloss Text
80 lb. C2S
Standard Stock Selections for PMS Document Folders.
DOCUMENT FOLDER COLOR CHART
Standard Ink Colors for PMS Document Folders.
Inks will appear different