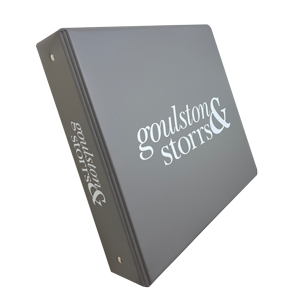 89-01
Vinyl Binder
Specs:
Vinyl binders are very popular because they offer the perfect way to organize paperwork, are durable and have a long shelf life.
Imprint Options:
Silk-screen, foil stamp, deboss. Variety of colors and finishes.
Round, Angle-D or Straight-D Rings:
1/2" to 4".
Concealed or exposed rivets.
Sheet Size:
11" x 8 1/2" (other sizes available).
Optional:
Pockets, label or business card holders.
Sheetlifters:
Index Tabs:
Available for an additional charge. Call for a quote with information specific to your organizational needs. Options include: Stock and custom tabs, PMS and process printing, mylar tabs, drilled holes, 90 lb. and 110 lb. index, collating.
Proof:
Free PDF or color digital available upon request.