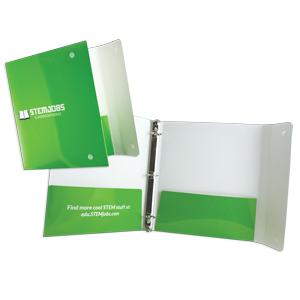 88-07
Three Ring Portfolio Flap Binder
Specs:
Two v-split pockets and 2 3/4" wrap-around flap, fastened with hook and loop closures. Binder size varies with ring capacity. Sheet Size: 8 1/2" x 11".
Binder Size:
1/2" or 3/4" Rings: 9 3/4" x 11 1/2" closed with 1" spine.
1" Ring: 10 1/8" x 11 1/2" closed with 1 3/8" spine.
Available:
Printed, foil stamped or embossed.
Art:
Follow art guidelines and submit art on template.
Stock:
A variety of stock and coating options are available.
• 20 Pt C1S Semi-gloss stock with gloss lamination. Matte or Soft-Touch lamination is available for an additional charge.
• 24 Pt C1S Semi-gloss stock with your choice of gloss, satin or matte aqueous coating. Soft-Touch aqueous coating, Gloss UV, gloss lamination, matte lamination or Soft-Touch lamination is available for an additional charge.
Production:
5000 or less: 10 working days. Larger quantities: 15 - 20 working days. Schedules can often be adjusted. Tell us what you need.
Free business card slots/slits:
Available for no additional charge. View template.
Proof:
PDF or color digital available upon request.
Union Made in the USA:
Binder is printed and assembled in the USA by union employees. Metal ring mechanisms are from China.
Recyclability:
Binders with film lamination are NOT recyclable. Binders with aqueous coatings (including Soft-Touch) can be recycled. Separate the metal rings from the paper and put each in the proper recycle bin.
Index Tabs:
Available for an additional charge. Call for a quote with information specific to your organizational needs. Options include: Stock and custom tabs, PMS and process printing, mylar tabs, drilled holes, 90 lb. and 110 lb. index, collating.
Packaging:
Pockets glued at outside edge. Ships final folded. Packaged up to 25 per box. 9 lbs. per box.