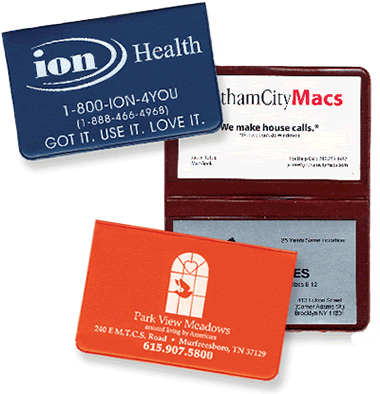 24-800-01
Vinyl Card Case with Two Clear Pockets
Specs:
4" x 5" (Open); 4" x 2 1/2" (Closed). Two clear card pockets on inside. Holds business cards, union cards, hunting and fishing licenses, medical cards, transit cards and more.
Minimum Quantity:
Imprint Location:
Imprint Size:
Vinyl Colors:
White, Red, Navy, Medium Blue, Green, Black, Royal Blue, Brown, Maroon, Gray, Bone, Pink, Yellow, Orange, Gold, Silver, Purple, Teal.
Imprint (Hot Stamp) Colors:
Gold, Silver, White, Black, Navy Blue, Red, Green, Yellow, Gray.
Weight: