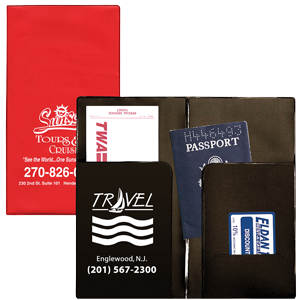 24-451
Vinyl Passport Case
Specs:
(Open) 9 3/8" x 8 3/4", (Closed) 4 3/4" x 8 3/4". Two inside pockets. Slit on inside right pocket to hold claim or luggage tags.
Minimum Quantity:
Imprint Location:
Standard is centered on inside left pocket. Outside, front cover imprint is available on request.
Imprint Size:
Outside Vinyl Colors:
Navy, Green, Black. (Inside lined with black vinyl for a sharp appearance.)
Imprint (Hot Stamp) Colors:
Gold, Silver, White, Black, Navy Blue, Red, Green, Yellow, Gray. Silk screening and second color imprints are also available.
Weight: