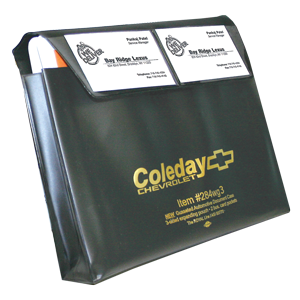 24-284-WG
Vinyl Document Case with 1-1/2" Expandable Gusset
Specs:
9 3/4" x 7 3/4" closed, with 1-1/2" SEALED corner expansion gusset. Flap has two clear business card pockets. Plenty of room for more documents or thicker manuals.
Minimum Quantity:
Imprint Location:
Standard, centered on pocket below flap.
Imprint Size:
Options:
Hook and loop closures or plastic snap available for additional charge.
Vinyl Colors:
Red, Navy, Black, White, Royal Blue.
Imprint (Hot Stamp) Colors:
Gold, Silver, White, Black, Navy Blue, Red, Green, Yellow, Gray. Silk screening and second color imprints are also available.
Weight: