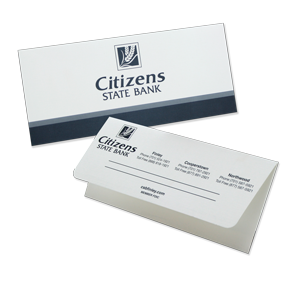 01-02
4" x 9 1/4" Document Folder
Specs:
4" x 9 1/4" closed. Full pocket and flap. Custom design each panel with your own art in Portrait or Landscape format.
Minimum Quantity:
150 (Print - Limited)
250 (Foil, Emboss, Printing - 4CP and full capacity)
Printing (Limited):
Your choice of one standard Document Folder ink color. See color chart. No heavy coverage or large solid blocks of ink. Copy must remain 3/8" in from all edges. Print in any location on the face, flap or pocket. Second side printing (inside of flap), additional standard ink colors or non-standard PMS ink colors are available for an additional charge. Full graphics including heavy coverage and 4CP available.
Foil Stamp:
One standard foil color - one area up to 36 square inches. See color chart.
Emboss:
One level raised - one area up to 36 square inches.
Art:
Follow art guidelines and submit art on template (Adobe InDesign).
Stock:
Your choice of one standard stock for Document Folders. See color chart. Additional charge for other stocks.
Production:
10 working days. Schedules can often be adjusted. Tell us what you need.
Business card slots:
Additional charge. View template. Optional, request when ordering.
Proof:
PDF or color digital available upon request.
Packaging:
Pocket glued at both sides. Ships final folded. Packaged up to 500 per box. 20 lbs. per box.