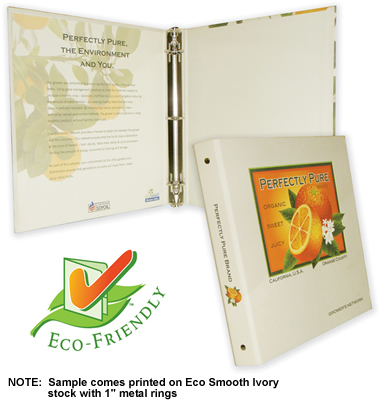 86-03-ECO
Turned Edge Eco Binders
Eco Smooth Stock Colors:

Recycled Stock (exterior/interior wrap) with 100% PCW: This is paper that has been recycled to make new paper rather than being sent to a landfill. Saves landfill space and conserves trees, water and energy.
Chipboard: Printed sheets are wrapped around unbleached, recycled chipboard.
Processed Chlorine Free (PCF): No chlorine or chlorine compounds were used in the recycled paper-making process.
Elemental Chlorine Free (ECF): A chlorine derivative (usually chlorine dioxide) is used instead of elemental chlorine during the paper-making process.