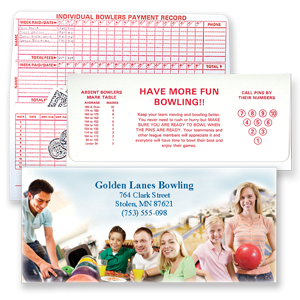 D-01-01-711
Family Fun Bowling Digital Document Folder
Specs:
10 1/4" x 4 1/2" closed. Stock design on face and flap. Pocket is blank.
Digital Printing:
Stock design and your imprint copy prints in four color process.
NOTE: Be aware that digital printing will not match traditional offset printing.
Imprint Area:
Add logo and imprint information in the areas indicated on the designer's template (Adobe InDesign). If you prefer, you can submit logos and information and we will typeset and setup the imprint for you.
Art:
See viewable template for imprint area sizes. If submitting copy/logos for us to setup, use acceptable programs and send full color (CMYK not RGB) or one color art (all PMS colors will be converted to CMYK - some color shift may occur). Convert all type to outlines or paths. Acceptable file formats are EPS or PDF. Do not send logos copied off a website or JPG, GIF, BMP, DOC or PPT. If we are typesetting, standard typestyles will be used unless other specific instructions are given.
Quantity:
Stock:
80# uncoated Smooth White only
Production:
5 working days. Schedules can often be adjusted. Tell us what you need.
Business card slots/slits:
Available for no additional charge. See position and style limitations in diagram to the right. Business card size: 3.5" x 2".
Proof:
PDF available upon request.
Packaging:
Pocket glued at both sides. Ships final folded. Packaged up to 200 per box. 10 lbs. per box.