Pocket glued at both sides. Ships final folded.
Digital Print: Be aware that digital printing will not match traditional offset printing.
Art: See viewable template for imprint area sizes. If submitting copy/logos for us to setup, use acceptable programs and send full color (CMYK not RGB) or one color art (all PMS colors will be converted to CMYK - some color shift may occur). Convert all type to outlines or paths. Acceptable file formats are EPS or PDF. Do not send logos copied off a website or JPG, GIF, BMP, DOC or PPT. If we are typesetting, standard typestyles will be used unless other specific instructions are given.
Photo: Add your photo (building, service bay, shop employees, etc.) on the front cover. A 6" x 4" digital photo works well.
Services: Up to 18 services can be added to the flap. We will typeset for FREE or use template provided.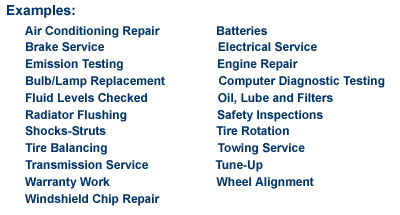 Business Card Slots (optional): See position and style limitations below. Business card size: 3.5" x 2". Card slots will cut through the service form on flap.