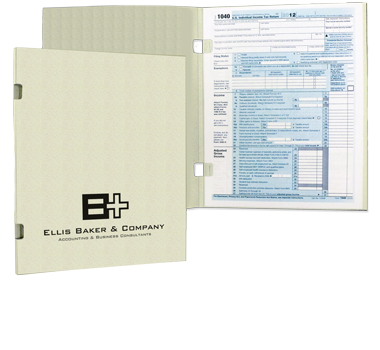 09-03
One-Piece Tax Cover with Tabs
Specs:
8 7/8" x 11 1/4" closed; 1/2" triple scores at spine. Staple pages to tabs at left edge. Window options available - see specifications.
Request optional windows:
Window "A": Standard 2" x 4" window 3" down from top of front cover. Window "B": 1 3/8" x 4 3/4" round corner 1 1/8" down from top and 1 5/8" in from left edge of front cover.
Printing:
Choose from standard document folder ink colors. No heavy ink coverage, copy must remain 3/8" in from all edges. Print in any location on the front or back cover. Second side printing (inside) is available. See color chart. Full graphics, including heavy coverage and 4CP available.
Foil Stamp:
One 25 square inch area. Choose any standard foil color. See color chart.
Emboss:
One 25 square inch area. One level raised.
Art:
Follow art guidelines and submit art on template.
Stock:
Choose any standard stock for Document Folders. See color chart. Additional charge for other stocks.
Production:
10 working days. Schedules can often be adjusted. Tell us what you need.
Business card slots/slits:
Optional on front cover, as shown.
Proof:
PDF or color digital available upon request.
Packaging:
Ships open, not folded. Holds approximately 45 sheets. Packaged up to 500 per box. 35 lbs. per box.